Milkman
Publication Design

2022

For Type III with Pouya Ahmadi

Publication created from Cao Fei's Milkman (2005) that seeks to translate the look, atmosphere, and experience of watching the film into publication form. Milkman is a pseudo-documentary fiction exploring the mundane realities and escapist fantasies of the working class in China.

In Milkman, the dialogue is often unrelated to what one sees. To evoke this disconnect between thought and experience, the dialogue is separated onto vellum inserts between full-bleed screencap spreads, creating a gauzy effect where image and type overlap but never fully combine—where one is always a ghost to the other.

The sudden dream sequence, where the main character imagines himself carefree and wealthy, takes on a different form entirely: printed on yellow vellum and in accordian book form, the text weaves in and out of legibility as it merges directly with image and surface.

Consisting of two perfect bound books with an unfolding vellum accordion in the middle to distinguish the climactic dream sequence.
---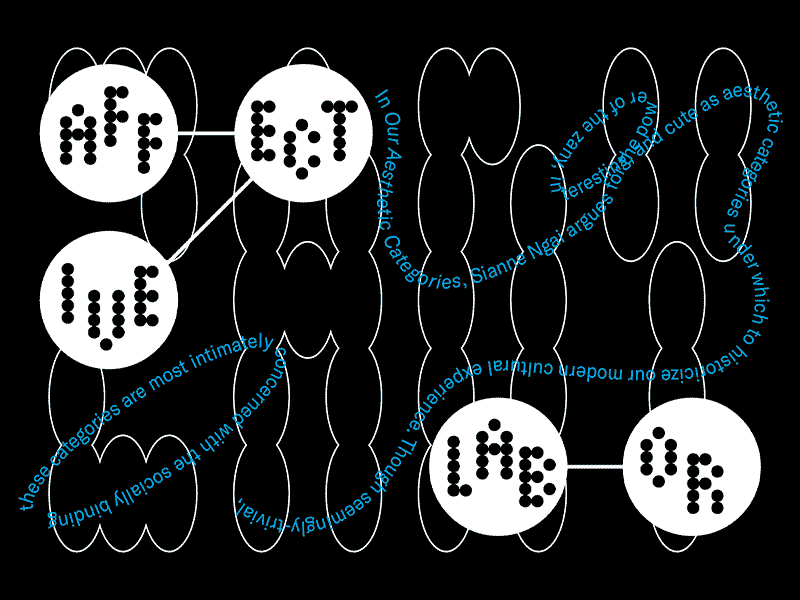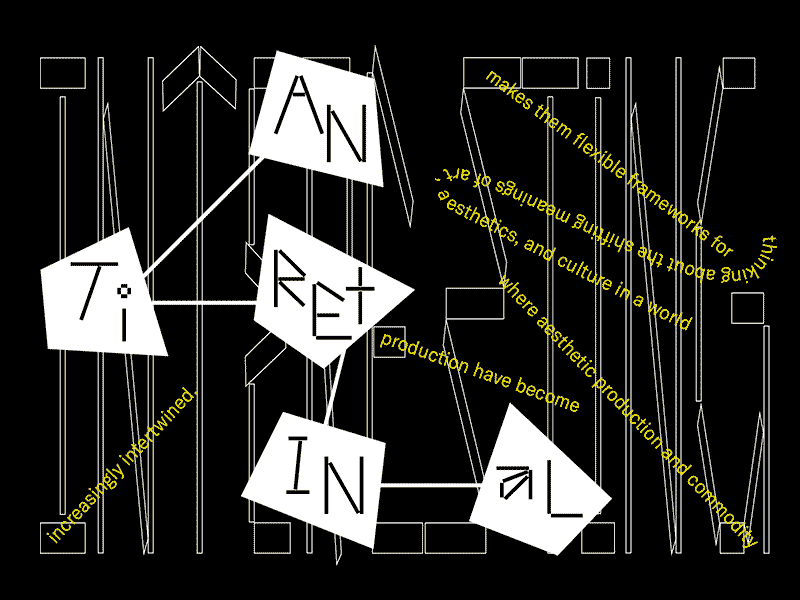 Zany, Cute, Interesting
Motion, Print Design

2022

For Type III with Pouya Ahmadi


Postcard series based off of Sianne Ngai's "Our Aesthetic Categories," which discusses the "zany," the "interesting," and the "cute" as aesthetic categories to process the radical transformation of aesthetic experience and discourse under the conditions of postmodernity.
---
RISD Playground
Identity Design

2021

For Design Studio I with Minkyoung Kim


Poster series + identity for a theoretical "RISD Playground" event promoting fun, leisure, and self-care amidst a stressful school environment. I drew on a combination of psychedelic patterns and childhood associations with play to create a colorful, slightly-nostalgic feeling of fun targeting Gen-Z undergraduates.

READ MORE ︎︎︎
---
Which Winx Club Member Are You, Based on Your Opinions on AI Art?
Publication Design

2023

For Intro to CTC with Griffin Smith

In the vocabulary of late 2000s teen magazine personality quizzes, the quiz and its results are written entirely through ChatGPT and question how the nostalgia of print interacts with the uncanny future of machines.

The aesthetics of the publication weave between the digital and the analog—the scrolling questions and a static scorecard mimic a two column webpage, while the grids overlaid in the white spaces suggest a drafting space for the human hand.

The RISO ink, which smudges easily with moisture, mimics the brightness of screen colors while also emphasizing the tactility of the print experience.
---